August 1955 539 miles
Tues August 23rd to Sat 3rd September Tour of the Western Highlands
Tues Aug 23rd 70 miles I left the expedition headquarters in Glen Tromie at about 9.00 a.m. and started on my Highland tour. The weather this summer has been absolutely fantastic – and Scotland has had the best of it! It was 85ºF when we arrived in the Cairngorms and still stifling today.
I bought some provisions in Kingussie and settled the expedition accounts at MacIntosh and Rutherford's [the grocer's in the High Street who acted as expedition suppliers]. After saying goodbye I left along the A 9 through Kincraig, Aviemore and Carrbridge to Inverness for lunch. Loch Moy looked more like Lake Como, although the hills were covered in a heat haze. I spent some time looking round Inverness before pushing off by Beauly Firth through Beauly, where I had some tea, to Muir of Ord and Strathpeffer. I booked in at the hostel and cooked a meal. I am off to Ullapool and the north-west coast tomorrow and hoping that the weather will continue fine – but not quite so hot!
Wed Aug 24th 45 miles Even hotter today! I left the hostel at about 9.15 a.m. through Garve by the side of beautiful Loch Garve and then up the lonely single-track road right across Scotland to Ullapool. A really delightful place and a nice day except, perhaps, a bit too hot!
Thurs Aug 25th 68 miles Another hot day. Ullapool was a really fine hostel with fine company. I left at about 9.15 a.m. out via Ardmair bay and along the beautiful Ross-shire coast from Drumrunie Lodge, past Stac Polly, and thence by the 'mad little road of Ross' to Lochinver and into Sutherland. I had a swim in the clear warm water of Enard bay. After lunch in Lochinver Hotel I rode past Loch Assynt to Inchnadamph and then back to Ullapool via Elphin. I have decided to spend a second night in this lovely place to extend my tour while the weather lasts.
Fri Aug 26th 71 miles I caught the 10.00 o'clock ferry across Loch Broom and then dragged my bike over the top and down to the 'main' road (A 872) and then along to Poolewe and Gairloch via Gruinard bay and the famous hill. On this hill, which hangs on the cliff face and is 1 in 7, the road became a loose gravel track! I had dinner at Poolewe and then cycled through more magnificent scenery, past Loch Maree to Kinlochlewe. Then down Glen Torridon to Inver Alligin youth hostel on the northern shores of Upper Loch Torridon. Glen Torridon is the most beautiful and quietest part of the Highlands I have yet seen. It was a cooler day with some mist – I could not see the tops of the Munros. In the evening I cooked a meal of fresh mackerel given to me by some fellow hostellers.
Sat Aug 27th 41 miles Out of Inver Alligin hostel by about 9.30 a.m., crossing Lock Torridon in a small ferry boat to Shieldaig [this was before the connecting road round the south side of the loch was constructed]. I then rode up the exceedingly rough B road up Glen Shieldaig to Kishorn, over the top to Loch Carron and thence to the dilapidated Strome ferry. [In doing so I passed an inviting side road to Applecross. Many years later I was to ride, or rather walk, over that road, the 'pass of the cattle', one of the most gruelling passes in Scotland]. From Stromeferry I fought with time in order to reach Kyle by 2.45 to catch the Portree ferry. However, on Saturdays the steamer is late and leaves at 4.00 o'clock. It was a very beautiful crossing to Skye although, by now, very cold. We landed on Raasay and had good view of Scalpay, Pabay and Longay. I soon found some digs in Portree and, apart from the recent drought causing 'lights-out' at 9.30, everything was marvellous. [Actually I went to the cinema that evening but we all had to leave when the power was cut – a 'rain check' in reverse, perhaps!]
Sun Aug 28th 33 miles Out of Portree by 10.00 a.m., cycling along the lovely road to Staffin past the Old Man of Storr and a beautiful coastline. At Staffin I turned off the main road and continued on a rough and hilly road to Uig past the Quiraing and some spectacular scenery. [The photographs overleaf show this road in 1955 and the exact same spot 39 years later! The main difference in 1994 was that the road surface was greatly improved]. I reached Uig and the youth hostel early in the afternoon just as it started to rain. I do hope that the weather has not broken for good!
Mon Aug 29th 56 miles I left Uig hostel ay about 9.45 a.m. riding off in misty weather alongside Loch Snizort to Carbost. Here I turned westwards into a very fierce head wind and driving rain across lonely moor to Fairy bridge and Dunvegan. The rain eased here while I looked at the castle. I then continued westwards through Colbost and Glendale to Waterstein head to see the 964 foot sea cliffs – but the rain and wind were so frightful I couldn't 'see a sausage' and feeling drenched came straight back the way I had come, to Dunvegan and Kilmuir to a dismally cold youth hostel at Harlosh. If this weather continues, I shall catch the train home from Kyle!
Tues Aug 30th 68 miles The weather improved no end overnight. I left the dismal hostel at 9.15 a.m. and rode as rapidly away as possible through Bracadale to Sligachan past marvellous views of the Cuillins and Lord Macdonald's Forest. On, then, through Broadford past the Red Hills to the ferry at Kyleachin. I crossed the ferry and picked up some provisions in Kyle before pushing on through Balmacara alongside beautiful Loch Duich to Dornie and its castle, then to Sheilbridge and the hostel at Ratagan – a really fine one. Today was a very nice day with sunny periods.
Wed Aug 31st 79 miles Out of the hostel at 9.15 and after picking up some stores in Sheilbridge rode up Glen Sheil – in pouring rain – to Cluanie Inn. Here I turned right, over the 1400 foot pass [no longer open since the construction of Loch Loyne] to the Tomdoun Inn. I then cycled down Glen Garry to Invergarry where I had a snack to keep me going. I turned right again down the Great Glen through Spean Bridge to Fort William. I could not see Ben Nevis because of the clouds, but the sun did come out. I continued on to the Balachulish ferry and thence to Glencoe hostel via Balachulish and Glencoe village. Marvellous scenery and a good hostel.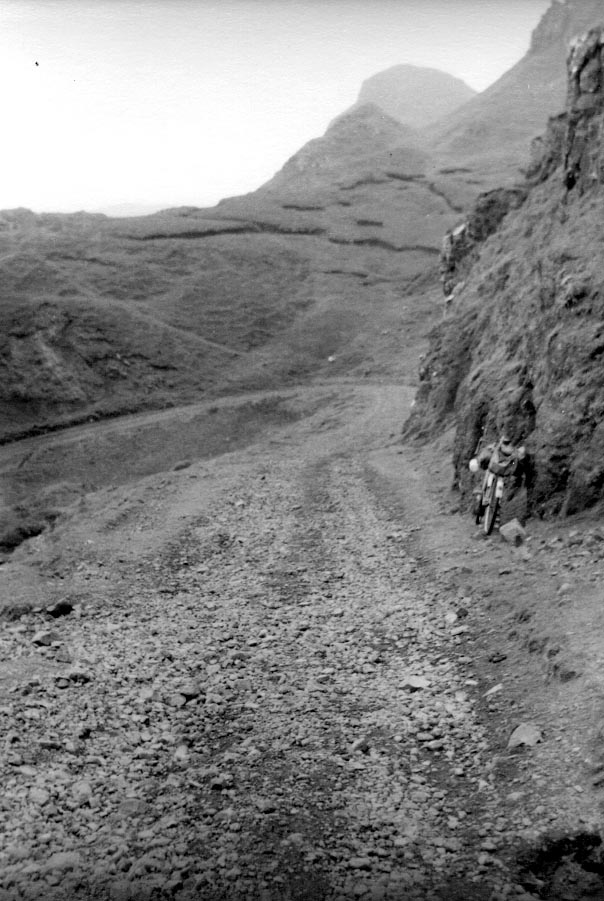 September 1955 772 miles
Thurs Sept 1st 83 miles I rode up Glen Coe as far as the Kings House hotel, and then down again, last night after I had written in this diary – so I shall count those miles in today's total. It is just as well that I did ride up the Glen last night when it was fine, as it simply poured all day today and I have seen very little!
I got away from Glencoe hostel soon after nine o'clock and rode through Balachulish to Appin and then round the end of Loch Creran to Connel with its fantastic sea waterfall, the falls of Lora, at the mouth of Loch Etive. I then continued on to Oban for lunch, all the time in my cape and into a strong headwind. After lunch I retraced by wheel-tracks to Connel and then past Ben Cruachan, through the pass of Brander to Dalmally. The wind dropped a bit here, but it started to rain even harder. I continued on with a cyclist from Glasgow down Glen Aray to the hostel at Inverary. It was very wet indeed; a rather dismal day!
Fri Sept 2nd 62 miles I left the hostel in sunshine at 9.30 a.m. but it soon started to rain and blow again. I rode around Loch Fyne and then over the Rest and be Thankful – a super descent into Arrochar where I had some elevenses. I then rode over to Tarbert, down the shores of Loch Lomond and so into Glasgow via Alexandria and Dumbarton. I caught the 5.50 p.m. train home. It has been a very enjoyable tour.
Sat Sept 3rd 25 miles I rode home to Pinner from Euston in the early hours of the morning, in time for breakfast.
Later on I went up to Gordon Prangley's at Northwood Hills to meet the club. We went to the cinema in the evening. Whilst I have been away John Moore has broken the club junior '10' record with 24.54.
Sun Sept 4th 55 miles Up at 7.00 a.m. and went out to watch the finish of the club '25'. Dave Adams won the event with 1.03.00 – the third fastest club time ever. Brian Major was second with 1.04.58 and Colin Turner third with 1.05.25.
We came home via Hillingdon and then went out with Tony Standing and the two Brians (Huggins and Major) via Iver, Langley and Datchet to Egham for tea. We took some boats out on the Thames at Staines and then came home via Iver Heath and Ickenham. A nice day, sunny and warm at times.
Mon Sept 5th 10 miles Club night. I took over the organisation of the club time trials again from Brian Major. Took bookings for the next club '25' and I entered for the WLCA '25' on October 2nd.
September 8th to 16th A week's camping in Dorset
Thurs Sept 8th 53 miles I pottered about for most of the day and then packed my saddlebag for the ride to Lulworth Cove. I was intending to start this journey tomorrow (Friday 9th) but had everything packed and decided to make a night ride of it. So I left at 7.00 p.m. down through Slough and Windsor Great Park to Bagshot and then on through Camberley and Hartley Wintney to Basingstoke. Soon after Basingstoke my rear light packed in so I found a haystack and actually slept from 11.00 p.m. to 5.00 a.m. in my sleeping bag. It rained practically all night and I am sure that I heard rats in the hay! I got quite wet.
Fri Sept 9th 85 miles Up at five o'clock to continue my journey through Andover (breakfast) and Amesbury to Shaftesbury where I had some elevenses. I then continued through some new and lovely country to Blandford Forum, Winterbourne Kingston, Bere Regis and Wool to the camp site at Durdle Door near Lulworth cove. A nice day, but some rather heavy showers.
Fri Sept 16th 128 miles After a week's non-cycling I rode straight home – as it rained non-stop! I rode through Wareham, Poole, Ringwood, Romsey, Stockbridge, Basingstoke and Staines. I had nine hours riding with only three short stops.
Sat Sept 17th 8 miles Up to Pinner and then to Northwood to see the boys about the WLCA '50' tomorrow. Went to the pictures in the evening with Brian.
Sun Sept 18th 96 miles Up at 6.30 a.m. to ride in the WLCA '50'. I felt quite fit after all the recent miles but have not been training for speed. I felt a bit rough between 20 and 30 miles but finished fast, the last 10 miles inside 26 minutes, beating Arch Harding to the line and dropping Brian Major. I only managed 2.28.33, however, as the rest was so slow.
After the event we went out to Windsor. Came back through the lanes and "The Stag" at Welham. A nice warm day.
Sun Sept 25th 56 miles The "Last Chance" '25'
Mrs Beaton's Gourmet '25'
Start Sheet
Before you should ever attempt to ride in a time trial you should be perfectly fit and have kept to a strict diet. Always, I repeat, always, eat as much starch (cakes, pastries, bread and puddings) and fat, and drink as much alcohol, preferably in the form of draught beer or spirits, as you can lay your fat podgy hands on. Never, never eat lean meat or fruit or drink tea in which at least a pound of sugar or treacle has not been dissolved. It might have the disastrous effect of making your weight drop below eighteen stone!
Always remember:-
1. Parsley that becomes crisp immediately it is dropped in means that the fat is at 350ºF or more.
2. The boiling point of lard is 210ºF.
3. Search for the insects in greens before putting them in to soak.
4. There is no work like early work.
The finest pre-race breakfast:
1. Roast larks on toast with lemon and bread crumbs
2. Giblets (see chapter on Entreés)
3. Ham ramekins
4. Kebabs and Pilcaithly Bannocks a\' tutti frutti
How to prepare your bicycle for the event (trussing illustration see No 4, Fig. 5).
Racing bicycles are prepared, drawn and trussed in the same manner as fowls and turkeys, except that the wings and pinions are cut off at the first joint and the intestines are placed in your saddlebag. First cut off the mudguards, leaving enough skin (on your hands presumably) to skewer back. Then loosen the wheels and squeeze the blood out, taking great care not to burst the front tyre. Make a cut in the drumstick, about half an inch from the hock, tucking it in under the saddle pillar and cut off the shank (presumably she means crank) half an inch above the foot. Sew off with needle and string as for fowl (see Fig. 5). Dish up, garnish with salad and strain over the 'chicken'.
(N.B. Mrs Beeton now says: Time – from one and a half to one and three quarter hours. Sufficient for 5 persons. I should think that a time like that for a '25' is enough for anybody!). Good luck, men!
Chefs:
Number Name Handicap Time off
1. Jack Hobbs 5.30 07.01
2. Peerless Piddell 7.00 07.02
3. A. Standing (Billy Butlin's best pal) 2.00 07.03
4. Eggo Evans 5.00 07.04
5. Blonde Busby Kennedy 6.00 07.05
6. Haggis Hamer 4.45 07.06
7. Sassanach Saunders 3.15 07.07
8. K. R. Emm the printer 6.00 07.08
9. Brer Fox 6.00 07.09
10. Herr Major von Agfa 1.15 07.10
11. C. Turner the Sheik Scratch 07.11
12. Junket Jeffs (watery at
the knees) 4.00 07.12
13. Young John Thomas 3.00 07.13
14. Floppy 9.00 07.14
15. Damp Nose Dopson 1.00 07.15
16. Adams the Furnishers 0.30 07.16
17. Butcher Baker (Candle-stick maker) 10.00 07.17
18. Polly Huggins of the Hill 4.00 07.18
19. S.A.C. Beer belly Bingham 1.45 07.19
20. Lillywhite 5.00 07.20
22. Queen Mary (82,00 tons) 07.22
The Head Chef, Exchequer Empson will be cooking the times.
Hypochondriac Harvey, the preposterous pusher, will assist with the cooking.
Rudolph Valentino, the Turner, will check the food when it's half done.
I covered only 50 miles during the week. Today I rode in the "Last Chance" '25' and did the disgusting time of 1.12.39. Mind you, I did not exactly exert myself as it was not worth it in my state of fitness. Tim Baker won with a handicap time of 1.02.28. Dave Adams was the fastest with 1.03.38.
In the afternoon we went up to the Lido at Ruislip. Brian Huggins and I then went up to town in the evening in his car. A nice day.
Mon Sept 26th 10 miles Went to London during the day. Up to the club rooms in the evening.
Tues Sept 27th 8 miles Pottered around and did some work in the morning. Went round to Brian Huggins's in the evening: it was his 21st birthday.
Wed Sept 28th 10 miles More pottering miles. We moved house today (to 22 Francis Road); very busy.
Thurs Sept 29th 13 miles Went to Eastcote in the morning and then to Pinner. We held a committee meeting in the evening at Mac's.