1328 miles
Fri Apr 1st 35 miles Warm again today. Had an early lunch and then went out training through Gerrards Cross and Beaconsfield to Amersham and then home through the Chalfonts, West Hyde, Harefield and Ruislip. Cold and misty by 7.30 p.m. and still quite cold in the mornings. I have entered for the Harlequins '25' on April 17th and have worked out my open events racing programme for the year.
Sat Apr 2nd 8 miles Made arrangements for tomorrow's race – and then spoilt it all by spewing violently all evening which left me in a cold sweat and with shaky legs. It must have been something I ate, but I thought that I must have a touch of gastric 'flu and decided not to ride in the morning.
Sun Apr 3rd 93 miles I felt as right as rain again this morning and [not wanting to waste the day!] met Brian Huggins for a ride. We went out 'the long way' to Wheathampstead via Codicote and Luton to meet the club at Dunstable for dinner. It rained a bit. We then came home down the A 5, turning off into the lanes through Flamstead to Hemel Hempstead and Boxmoor to the Shanty at Bourne End for tea. Came home with a 'tear up' and then out again to look for someone in the dark. A nice warm day but disappointing. Roger Bingham won the club '25' this morning with 1.05.58 with Ken Dopson on 1.06.21.
Mon Apr 4th 16 miles Up to Northwood Hills and twice to Eastcote in the morning, and then club night. Made final arrangements for this year's Easter tour to the Isle of Wight.
Tues Apr 5th 60 miles Went out for a long ride in the afternoon through Iver Heath, Datchett, Windsor, Eton Wick, Dornay, Taplow, Hedsor and Burnham, and then home through Egypt, Fulmer and Denham. Went out for a short training ride again in the evening.
Fri Apr 8th 42 miles Cycled down to Herne Hill with Brian and Bill to see the Good Friday meeting; we met the club there. It was an excellent meeting. Peacock beat Reg Harris, and Dave Handley lost the Champion of Champions to Harrison in the final. Ward won the 3 mile event, and Harrison the 60 lap Madison. A very nice sunny day but quite cold in the afternoon. We are off to the Isle of Wight tomorrow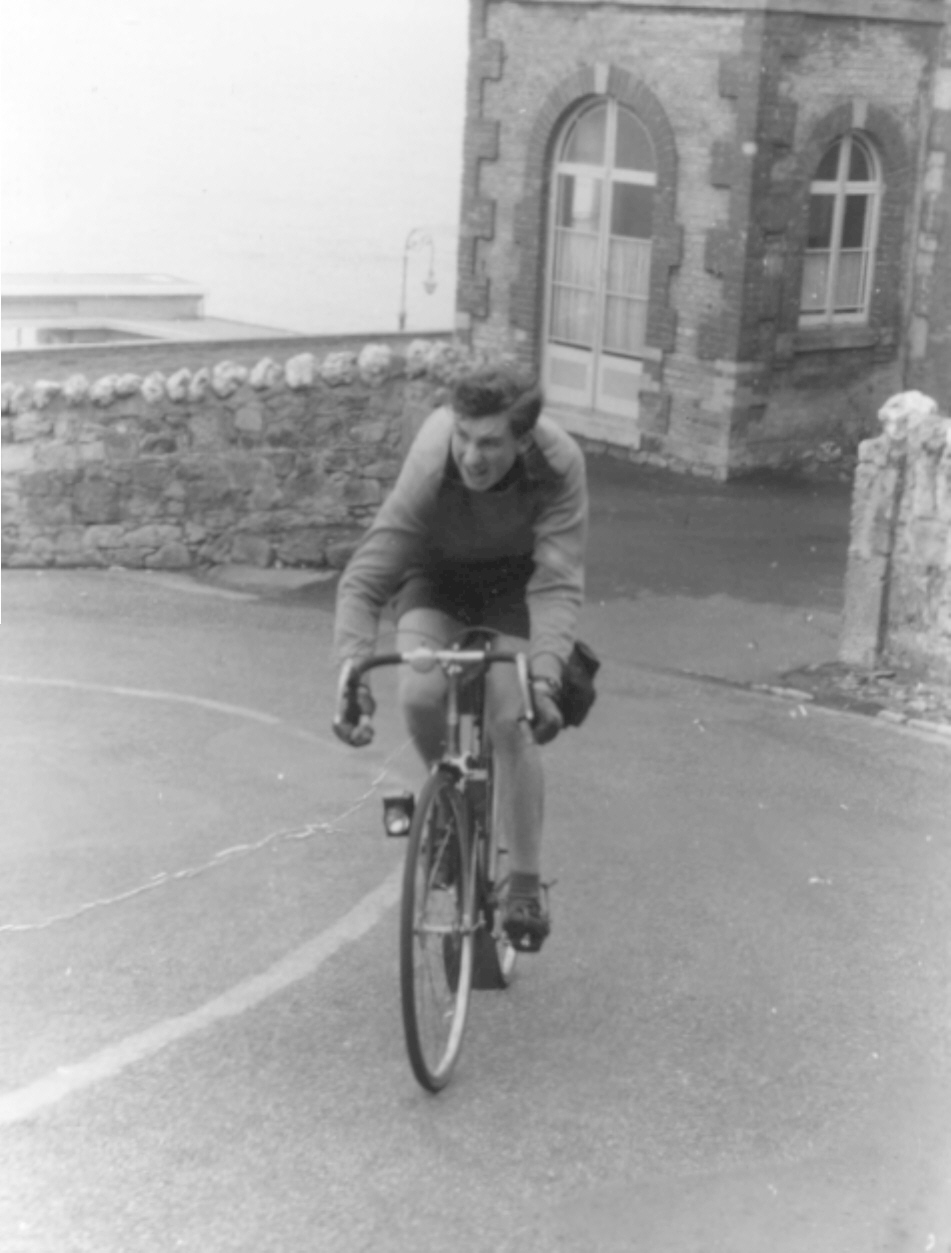 Sat Apr 9th – Mon Apr 11th An Easter Tour to the Isle of Wight, 231 miles
Sat Apr 9th 82 miles We left Northwood at 8.15 a.m. and rode down through Windsor Great Park to Bagshot (elevenses at Bert's café), then on through Farnham to Liss, Petersfield (lunch) and Waterlooville to Portsmouth where we caught the ferry across to Ryde. We arrived there at about 4.30 p.m.. A fine warm day. Saw Stan Hart [London University Cycling Club] on the road; he certainly seems to get around!
Sun Apr 10th 63 miles Went out for a ride with Brian Huggins, around the island via Sandown and Shanklin, over the
hill to Bonchurch (elevenses) and Ventnor. We then continued on to Niton for dinner, and then to Chale, Shorwell and the castle at Carisbrooke which we looked around. Then on through Newport to West Cowes, across the ferry to East Cowes and back to Ryde. A nice day but cloudy and cool. There were sea mists at the top of St Catherine's Down (over 600 feet) – and some huge hills to climb.
Mon Apr 11th 86 miles We caught the ferry at 10.21 a.m. and rode home via Portsmouth, Petersfield, Hindhead, Guildford, Woking and Staines, stopping at Petersfield for dinner and Godalming for tea. A nice hot day today with bags of sun! A very good weekend.
Wed Apr 13th 53 miles Went out for a ride in the afternoon through Watford, Aldenham, Radlett to Colney Heath and Essendon, round the lanes near Tewin to Digswell and Welwyn and then home over Digswell hill and down the A 405 to Watford and Northwood. Another warm afternoon; out for another spin 'around the block' in the evening.
Thurs Apr 14th 6 miles I have received the start sheet for the Harlequin's '25' on Sunday; I am the only Northwood rider!
Fri Apr 15th 18 miles Roger Bingham came round in the morning and we did a few 'pottering' miles up to Gordon's. In the afternoon we took a boat out on the Aquadrome at Rickmansworth. A nice sunny day.
Sat Apr 16th 48 miles Did the usual things in the morning and then rode down to Theale in the afternoon. I got my machine ready, had supper, and took a walk with some of the lads down there, including Weatherill and Wilmott.
Sun Apr 17th 89 miles I rode in the Harlequin's '25' on the Bath Road course. It was very fast out to the turn but a real stinker on the way back; I slowed to do 1.07.58 – I am still stuck in the rut. Roger came down later to meet me and we rode out through Streatley, Wallingford and Benson to Chinnor for dinner, and then up Whiteleaf and home down the Hampden valley and the Amersham road, stopping at Fred's for tea. A nice sunny day but the wind is cold again.
Mon Apr 18th 15 miles Up to Gordon's in the morning with Roger, and then to the club in the evening.
April 19th to 21st A short tour of Kent, 256 miles
Tues Apr 19th 93 miles I left home at about 7.00 a.m. down the Harrow road, across Westminster Bridge (under Big Ben as it struck 8.00 o'clock) then down the Old Kent Road to Eltham and Sidcup to Wrotham where I met Stan Hart out training. Just past Wrotham I turned off into the lanes through Offham, Meresworth and Teston and on to Sutton Valence where I took several photos. I then rode on to Lenham for a light lunch before continuing on through Charing, over the hills to Wye and on through Hastingleigh, Brabourne, Elmstead, Waltham and Petnam to Canterbury. I looked around for a while and then proceeded to the hostel. A fine sunny day but a cold wind.
Wed Apr 20th 91 miles Left Canterbury youth hostel by about 9.00 a.m. down the Dover road through Bridge and Lydden to Dover in a bitterly cold wind. It warmed up a bit later as I rode over the hills to Folkestone (elevenses). I then climbed up round the back of Caesar's camp to Newington, Lyminge, Elham and through the lanes to Bladbean, Stelling Minnis and Westenhanger into Hythe for dinner. After this stop I continued through Lympne, Bilsington and Hamstreet to Appledore, over the Isle of Oxney to Tenterden and Biddenden to tea at Sissinghurst. Then on to the hostel at Goudhurst. Some lovely country; many photos.
Thurs Apr 21st 72 miles For the third and last day of this 'mini-tour' I left Goudhurst at about 9.00 a.m. through Tonbridge and Sevenoaks, along the escarpment through Westerham, Godstone and Blechingley to Redhill for lunch. I then climbed Reigate hill and came home via Burgh Heath, Kingston and Isleworth. Another very nice day, but still cold. A very enjoyable tour.
Sun Apr 24th 146 miles Got up at 6.00 a.m. and off with Brian Huggins and Brian Major to Cambridge. We rode out through Radlett, Essendon and Hertford to Ware and then on to Buntingford for some elevenses. We then pushed on into a strong headwind through Royston to Cambridge for dinner and a look around the colleges. We then turned west to St Neots and then south through Shefford to Hitchin for tea and then home via Welwyn, Hatfield, Radlett and Harrow. A nice sunny day and plenty of miles.
Tues Apr 26th 79 miles Went to Eastcote in the morning and then up to College by bike via my sister's in Wembley and the YHA. I took up several things and printed some photographs. Came home via Northwood to see if my saddle had come in [to Prangley's] but no luck. In the evening I went out training with Brian Major and Les Robins and Bob Gomersal of the Polytechnic – out through High Wycombe, Marlow and Maidenhead, over all the hills. A nice warm day and a calm, windless night. I felt fit – if that means anything!
Wed Apr 27th 31 miles Cycled up to college today and then back through Kensington and Shepherds Bush. Cloudy and warm.
Thurs Apr 28th 31 miles Rode to college again the same way. Held a committee meeting in the evening at my place.
Fri Apr 29th 35 miles Up to college through Chelsea. In the evening I got my bike ready for Sunday's event (a club '50') and then went out for a short 'testing' spin.
Sat Apr 30th 6 miles Covered the usual few miles going to Pinner and then up to Northwood Hills to see the club. In the afternoon Brian Huggins and I went over to Cannon Lane [our Primary school] for their 21st birthday reunion.