1195 miles
Thurs July 1st 83 miles I have had my entry form for the South Ruislip '100' returned – it is a blow, but it can't be helped. What with the WLCA '100' being cancelled I won't have raced at all for a month.
Cycled up to college in the morning, said final farewells and made arrangements with my college friend John Burdin for my visist to see him in Harrogate. In the afternoon I went over to Ada Turner's [Colin's wife] via Gordon's and bought my new track vest [Ada had bought a knitting machine, and she made all the new club racing jerseys]. I then rode over to Uxbridge to see about my summer job – I will be paid £6 a week! In the evening I met Brian, Tony and Ian and went training to Amersham and home up Rickmansworth hill. A nice day.
Fri July 2nd 9 miles Up to Pinner and Northwood in the morning. Bought some new cycling shoes and several oddments for the bike. Watched T.V. in the afternoon (men's singles final at Wimbledon and the Test Match). Up to town in the evening with Tony but missed Brian.
Sat July 3rd 48 miles I got my bike ready in the morning for my ride to Yorkshire, and then met the club and cycled down to Pangbourne Lane mostly in the wet. We pitched our tents, had some grub and some Guinness.
Sun July 4th 125 miles A ride to Harrogate. Got up at 4.30 a.m. and went down to the Reading turn with one of the juniors to marshal. Saw the riders through and then returned to the camp site.
I left Pangbourne Lane [by myself] at about 7.00 a.m. up through Pangbourne village and Wallingford to Oxford where I found so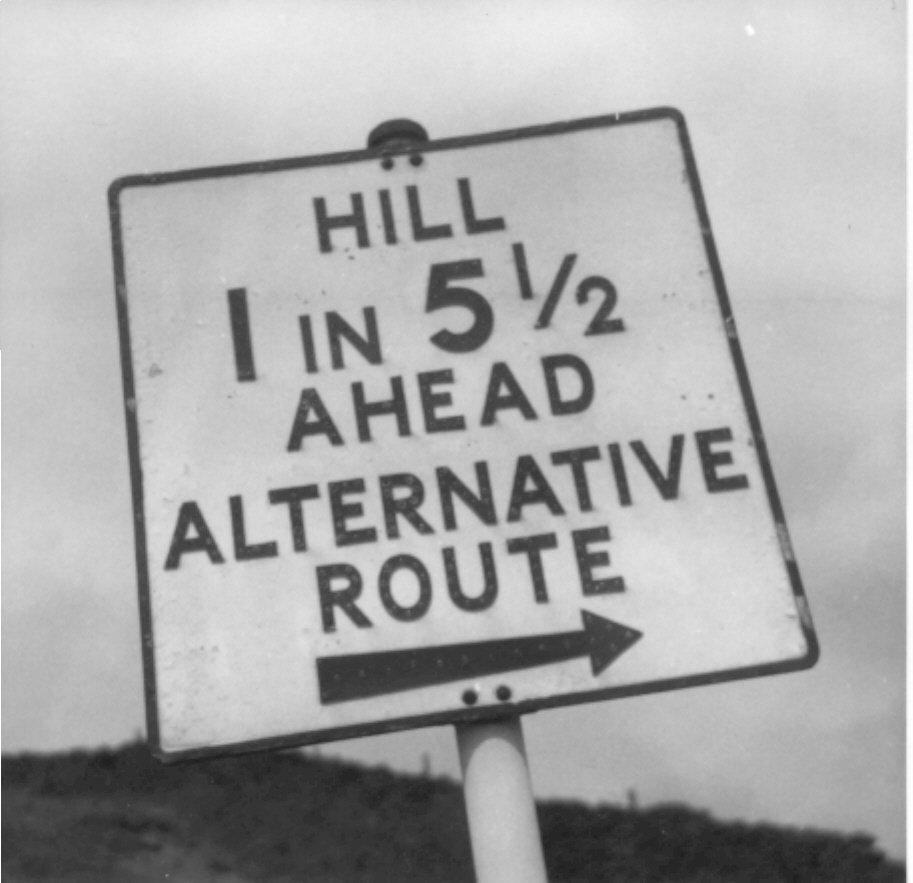 me breakfast. Then on to Banbury (elevenses) and Southam all in sunshine. At Southam I had my first shower and turned off to Rugby. I could not find a café in Rugby so had some sandwiches in a pub near Pailton. It now blew, poured with rain and flashed with lightning through Hinchley and Melbourne to Derby. I arrived in Derby wet and tired, mainly because I had so little sleep last night in the tent. Wind more or less sideways all day. [At first I could not find a suitable 'digs', so I called in the local police station; they directed me down the road to a very sweet old lady who took me in for the night! ].
Mon July 5th 110 miles I left Derby at about 8.15 continuing my journey through Belper, Matlock and Bakewell to Buxton for elevenses, along the same road covered by Brian Huggins and me on our 1951 tour to Scotland. I climbed the hill to Buxton quite easily and then continued on through Chapel-en-le-Frith, Hayfield, Glossop and Woodhead to Penistone where I met John. I had dinner in Glossop. A lovely sunny day with only two showers so I saw the hills at their very best – and climbed all of them in the saddle! John and I then pushed on through Denby Dale, Wakefield and Leeds to Harrogate. A lovely day and I took about 9 photographs.
Sat July 10th 114 miles I got away from Harrogate by about 8.30 a.m. through Spofforth, Wetherby and Bawtry to Doncaster for some elevenses. I then continued on through East Retford for dinner and onwards via Grantham (tea) to Stamford where I spent the night. I soon found some digs in Stamford and settled in for the night. A hard day.
Sun July 11th 96 miles I left Stamford at about 9.15 a.m. down the A 1 through Stilton to Huntingdon (elevenses) and St

Neots to Biggleswade and Hitchin. I had some food in Henlow and then came home through Welwyn, Hatfield, Radlett, Watford and Northwood. A nice hot day, but a gentle head wind for the last two days. Home by about 5.00 p.m. In four days cycling I have covered 445 miles.
Mon July 12th 25 miles Started work at Trimite's paint factory today – not too bad! Club night; played snooker and took entries for the club '50' on July 25th.
Tues July 13th 37 miles Out training in the evening through Ickenham, via Colin's house to Rickmansworth, and then home through Watford and Northwood. A hot day and a very nice evening.
Wed July 14th 25 miles Over to the South Ruislip club rooms in the evening.
Thurs July 15th 27 miles Held a committee meeting at Colin Turner's. A very late session; not home until after midnight. A fine warm evening.
Fri July 16th 14 miles Usual work miles. Went to the pictures in the evening.
Sat July 17th 64 miles Up to Pinner and then to Gordon's in the morning. Packed bike and then set off for Woodstock [to ride in the Harlequin's '25'] in pouring rain and wind. Another stinking event tomorrow? We left at about 3.15 p.m. via Colin Turner's, then up the A 40 to Beaconsfield, High Wycombe, Stokenchurch, round the Oxford by-pass to Woodstock and to our digs, mostly in the rain. We got our bikes ready and had a meal. [Something that I am not particularly proud of happened that night – although it did gain me some short-term fame! As was our custom, we went out for a few beers. Having retired for the night, all of us crowded into the same room, I became desperate for a pee. Knowing that if I left for the bathroom I would never regain entry – or if I did, my bed would be dismantled – I opted to pee out of the window into the garden below, not realising that a corrugated iron roof was just below the window ………Oh, well!].
Sun July 18th 105 miles Got up at 4.45 and off number 10 in the Harlequin CC's '25'. As anticipated, it was a very wet and windy event! I reached the turn in about 32 minutes and home (by my watch) in 1.06, but found that I had done yet another 1.07, 1.07.48 to be precise. I tried hard all the way round, was comfortable, and caught three other riders. Paul Stratman did 1.05.30 in a private time trial (and so did not qualify for the second handicap that he would have got), Ernie Jeffs did 1.08.10 and Bill 1.10.40. The event was won by J. Banting of the Harlequins with a 1.04.41 indicating just how hard it was!
We came home through Thame and Aylesbury where we met the rest of the club for dinner. We saw the finish of the Norlond combine 12-hour event, Rodney Bridge doing 206 miles. Alan Stratman and Ken Dopson also rode but packed it in. Home via Stanmore. A good but very hard weekend.
Mon July 19th 25 miles A lovely warm and windless day – isn't it a bind! Usual work miles plus club night. I took money and entries for the forthcoming '50'. I am timing the club junior '10' on Thursday evening and shall have to miss an event.
Tues July 20th 59 miles Another warm day. Went training in the evening with Alan and Paul Stratman, out via Roger Bingham's and Wealdstone to Bushey. Back along the by-pass to Kings Langley and Berkhampstead and then home via Bovingdon and Sarratt. A very nice night.
Thurs July 22nd 30 miles I timed the junior '10' in the evening. Paul won with 25.48 and also took first handicap.
Sat July 24th 10 miles Did usual Saturday morning things and met the boys up at Northwood Hills. I got my bike ready in the afternoon for tomorrow's '50'.
Sun July 25th 66 miles Up at 4.45 a.m. to ride in the club '50'. Off number 6 at 6.21, roared to the turn in about 1.7 only to find that the turn marshal was not there, so I stopped, lost 7 minutes and then chucked it in. Brian Major won the event with a 2.18.00 and Bill came second with a 2.24. I think that I would have come second (if I had not won) had this not happened. It rained all day – lousy!
Mon July 26th 24 miles Usual miles plus club night. I took entries for the club '25' on August 8th and prepared the start sheet. I also received the start sheet for Sunday's Norlond Combine '50'. I am number 103 with Roger Bingham off three minutes behind me!
Tues July 27th 44 miles Out training with Brian Major, Tony Standing, Derek and Ian Major through Amersham and then home over Rickmansworth hill and Northwood. A windy night.
Thurs July 29th 28 miles Went training with Paul. Finished up at Nell's café in Northwood.
Sat July 31st 12 miles Up to the shops, the bank and to Northwood in the morning to meet the club. Even had a beer! Brian Major is riding in the Leo R.C. '30' on the E3 course tomorrow (by himself), whereas Roger Bingham. Colin Turner, Rodney Bridge and I are in the Norlond '50'. It is still cold and windy; it has been the worst summer for 30 years.