507 miles
Sat Oct 2nd 56 miles Met the boys in the morning and made arrangements for the weekend racing on the Bath Road. We met later at 2.30 p.m. and made our way down to Jack's Booth where we stayed for the night. Had a few beers in Theale and played darts and bar billiards.
Sun Oct 3rd 80 miles I got up at 8.00 to ride in the WLCA '25'. I was off number 127 at 9.07. Found it hard going and only did a 1.08.20. Brian Major did a 1.04.08 and Roger Bingham and Alan Stratman 1.06's. Tony Stratman also did a 1.08. After the event we made our way home, with Ken Dopson and Ernie Jeffs, down the A 4.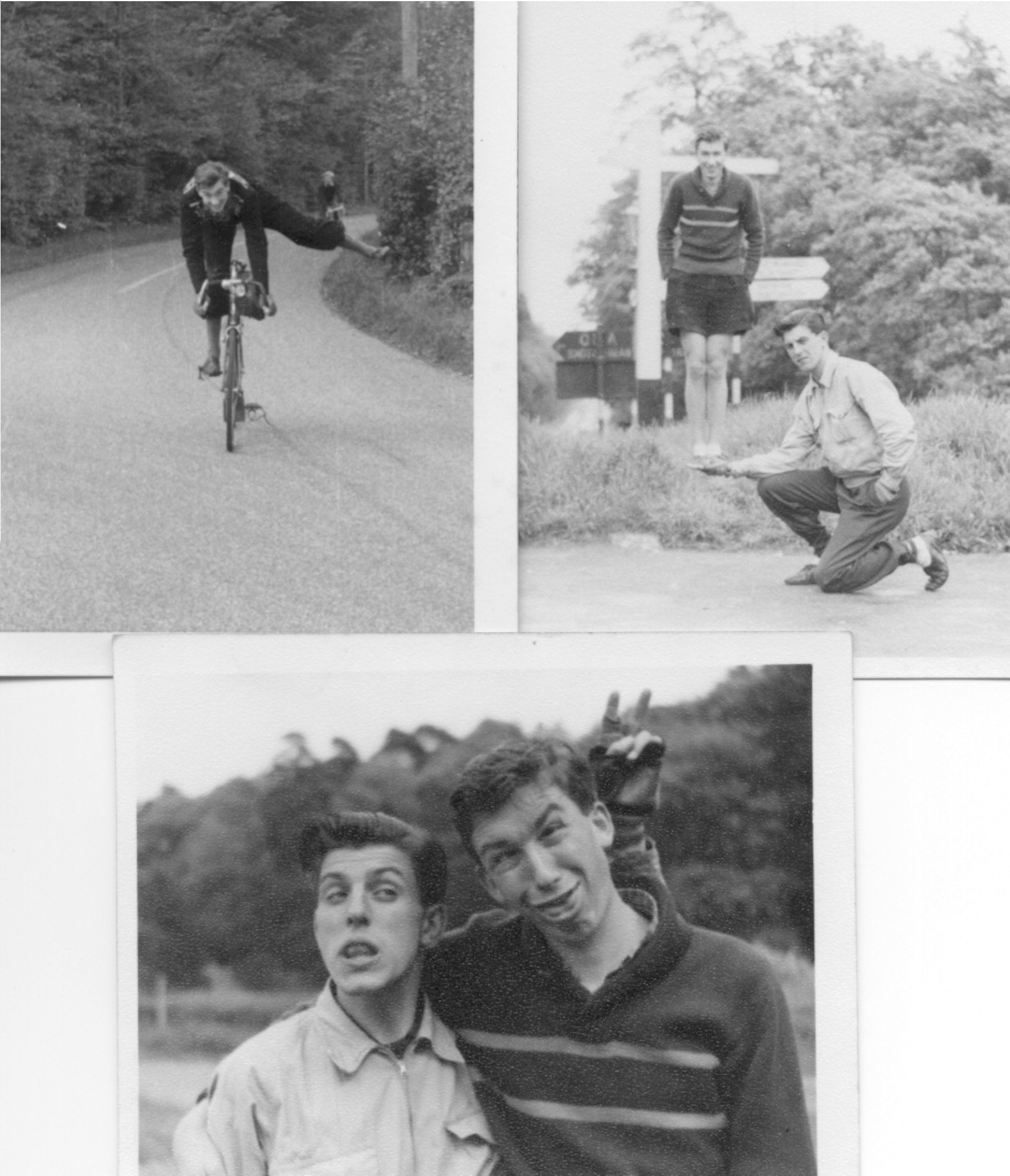 Things to do on a club run! Top left and bottom, with Tony Standing
Mon Oct 4th 22 miles Stripped my Holdsworth down in the morning and did several odd jobs. I called for Roger in the afternoon and we went up to Gordon Prangley's for some cycling clobber. Club night; played table tennis. It then rained for the journey home.
Sun Oct 10th 65 miles Out on the club run to Tring, with elevenses in Chesham. We went the usual route to Chesham and then continued through Hawridge Common, St Leonards, Wendover and Halton to Tring for lunch and a beer. We came home through Berkhampstead and Watford. A warm and sunny autumnal day.
Sat Oct 18th 24 miles Went to Pinner twice in the morning and then up to Northwood Hills to meet the club. In the evening I went over to my sister's at Wembley.
Sun Oct 17th 73 miles On the club run out through the lanes via Kingshill and Whiteleaf Cross. We held the annual freewheeling contest in the afternoon resulting in a draw between Pat and Ken Dopson. Came home down the A 40. A warm sunny day again, and 10 people out.
Tues Oct 21st 13 miles Held a committee meeting at Alan Stratman's. Discussed club dinner details.
Sun Oct 24th 63 miles Left Northwood at 9.15 a.m. with Brian Major, out through Watford, St Albans, Sandridge to Wheathampstead for elevenses. We then continued on to the Rookery for dinner and through the lanes to the Beacon for the Norlond Combine AGM. We volunteered to marshal the first '25' next year and to help with the 12 hour event. We got home at about 6.00 p.m.. A nice day but colder than of late.
Mon Oct 25th 10 miles Club night. I entered for the club hill climb next Sunday! I am not going on the Cheltenham (Cleeve Hill) run this year as I cannot afford the time or money.
Sat Oct 30th 8 miles I have been to the theatre twice this week – Thursday and Friday! I have also, at last, joined the London University Cycling club and shall be racing with them next season in both time trials and massed start. Went up to town again in the afternoon and evening.
Sun Oct 31st 30 miles We held the club hill climb championship in the morning which Tony Standing won and I came nowhere. It then rained and rained and we came straight home.