407 miles
Sat Dec 5th 10 miles We held the club dinner on Thursday night; it was very successful. Today I did the usual things for a Saturday morning and received my start sheet for tomorrow's Touring competition.
Sun Dec 6th 53 miles Touring Competition Met the club at 9.00 a.m. and proceeded to the start of the Touring competition at Colin Turner's house at West Hyde. The event went very well – but we do not know who won yet! I went slightly off course, lost marks on the brake test and also for the first question, although I knew all the other answers. We had a drink and then came home for a late lunch. A very enjoyable day.
Mon Dec 7th 10 miles Up to the club. I played snooker and collected dinner bookings for Sunday's run to Nettlebed. Apparently I came second in yesterday's Touring competition behind Alan.
Fri Dec 11th 3 miles Held a sub-committee meeting at Alan's to prepare next year's racing programme.
Sat Dec 12th 12 miles Up to Northwood Hills in the morning, but stayed in for the afternoon.
Sun Dec 13th 78 miles We left Northwood Hills at about 9.30 a.m., out through Rickmansworth and Chorleywood to Fred's café at Amersham for elevenses. We then continued on through High Wycombe, Freith, Fingest and Turville to Nettlebed for dinner. Albert joined us here and we then came home via Henley and Marlow (tea) and down the Oxford road. Another enjoyable day, although the weather was dull and rather wet at times.
Mon Dec 14th 10 miles Club night. I played Ken Dopson at snooker and took bookings for Sunday.
Wed Dec 16th to Sat 19th I started temporary work at the post office, delivering Christmas mail. Hard work, but not too bad except for the very early starts. Did not go out on Sunday.
Mon Dec 21st 28 miles It rained slightly today when I was delivering mail, but it was not too heavy. Went up to the club rooms in the evening. I lost snooker to Boff Empson but beat Brian Major. We are holding a 'Hobo' run on Sunday.
Tues Dec 22nd to Fri 25th Continued with the Christmas post. Met the club for a few pints on Christmas Eve; got a bit worse for wear – which made it a bit hard delivery mail early on Christmas morning!
Sat Dec 26th Out with the boys again for some more Christmas 'cheer' and put the mistletoe to good use. Alan Stratman was true to form; he got a date with one of the barmaids at the Bell!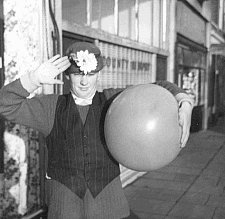 Sun Dec 27th 33 miles The 'Hobo' run The club met outside Gordon Prangley's shop at Northwood Hills all dressed up and with decorated bikes for the 'Hobo' run to Stacey's café at Chalfont. We met the Rickmansworth boys at the café, consumed more beer and wine. The Northwood Wheelers beat the Ricky at cribbage and shove-ha'penny. Brian Proctor (alias 'Giles') and Paul ('two-head') Stratman had the best hobo costumes [see photographs]. We came home for tea and then had a party round at Roger's house in the evening. Have had a very jolly week – and earned £7/13/- at the post office and consumed far too much of the old club cake and spirit. Everybody thought that we were quite mad today!
Mon Dec 28th 16 miles I went up to Gordon's in the morning to collect my new Ephgrave and a few accessories bought with my post office money. I spent much of the day building up the bike – it looks super. I finished at about 5.30 p.m. and then got ready to go up to the club rooms. I lost snooker to Boff Empson. Made arrangements with Colin Turner for the map-reading contest on Sunday, starting off at his house at West Hyde.
Tues Dec 29th 5 miles A miserable day, cold with drizzle at times. I went round to see Paul Stratman and gave his mother the 2/6d I owed him. I had a 'go' on the rollers: I can still ride them! I found both of my tyres flat this morning. The front had burst so I had to renew it, but the back tyre stays up for about 12 hours. It is a brand new inner tube, bought on Monday, so it probably has a faulty valve. We went to the pictures in the evening.
Wed Dec 30th It rained all day and stayed very cold. I went to Tring with my father, and seem to have a cold coming on.
Thurs Dec 31st 31 miles The last day of the year! I started my good intentions early by going training in the evening along through Stanmore and then the Watford by-pass and home via Watford and Northwood. A very cold night.
Total mileage for 1953 8,929 miles