Summer Tour to Scotland
July 21st to August 17th 1951 1,392 miles
At long last, our much-planned tour north to Dundee arrived, and two intrepid 16-year olds set off with laden bikes on a hot summer's day on the first leg north. Our parents must have been somewhat concerned, even in those days with comparatively quiet roads. My own mother insisted that we carry a batch of stamped postcards - already carrying our home address - that we should post at intervals even if they included no message. In that way our parents would know how far we had got on our journey, and that we were still safe. It never seemed to occur to us to 'phone home!
Sat July 21st 93 miles Left at about 9.00 a.m. with Brian out through Watford, St Albans, Dunstable and Ampthill to Bedford where we stopped for dinner (2/6d). After reading for a bit by the river and buying some sunglasses in Boots we pushed on through Rushden to Kettering where we had tea (ice drink and some cakes). We then went on to Uppingham, and thence to Loddington youth hostel. A super place. Went for a walk in the evening. A very nice day.
Sun July 22nd 57 miles Not so hot today, but it stayed bright with just a few showers. We actually got out of the hostel by about 9.00 a.m. – usually get out by 10.30 at least – out through East Norton to Leicester, and then turned off up a B road to Whitwick (where we had beans on toast for elevenses) and Melbourne to Derby for dinner (a very nice salad with super meat, 3/6d).
After dinner we continued through Derby and Belper to Ambergate village where we had a snack and sheltered from the rain. We had plenty of time (about 3½ hours) so, after watching the local cricket match for a while, we struck off up the hill to the hostel. We got lost and continued up through the woods until we came to the top. There was a simply superb view of the valley from here and Brian took two photos. We then turned round (more or less!) and arrived at Shining Cliff youth hostel at about 5.30. Went down to the 'local' in the evening.
Mon July 23rd 62 miles We left the hostel at about 9.00 a.m. and tramped up the path and out on to the road, and then down a 1 in 5 hill to Ambergate. Here we turned left through Matlock Bath and Matlock in pouring rain to Bakewell for elevenses. After this we left Bakewell and climbed steadily for 4 to 5 miles (we walked a lot of it!) through scenery similar to Cheddar Gorge to Buxton where we stopped for dinner. Took two photographs.
At dinner we met a bloke from Harrow (!) and he came with us right to the hostel at Holmfirth. [I well remember him saying that this was not 'real' rain, just mist blowing off the bottom of the clouds!]. We left Buxton down towards Chapel-en-le-Frith, Hayfield and Glossop to Holmfirth, my first time in Yorkshire. The scenery on this ride was bleak and very impressive – but it was very wet! The hills were steep and twisty and there were sheep on the road in many places. [All of this was rather new to boys from the south]. Height of the land at Buxton was over 1,000 ft, and the highest today, 1,332 ft. There was a 1½ mile, 1 in 9, drop from the top of Holme Moss into Holmfirth! The hostel is very nice with really comfortable bunks. A very nice day apart from the rain. [In Holmfirth one of Brian's Yorkshire uncles met us on his motorbike].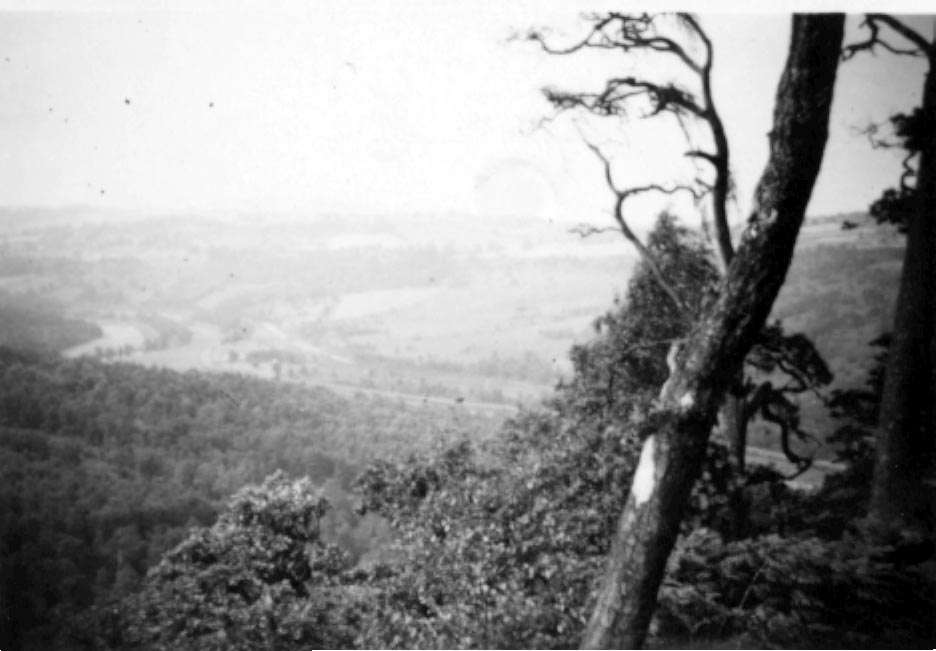 View from above Ambergate, Derbyshire
Tues July 24th 50 miles Out of the hostel by 9.30 a.m. through Holmfirth to New Mill for elevenses, Denby Dale to Wakefield where the spindle in Brian's rear hub broke. We had to get a lift into Wakefield [on a milk float, I remember!]. Here we found a cycle shop, and when we had finished our dinner we went back and got it – mended. We then continued on through Tadcaster where we had a snack and on to York. We had time here to look around the Minster and the city wall (two photos) before going to the youth hostel. The hostel is huge (90+ people) and very de luxe.
The route today was hilly and cobbley until Denby Dale and Wakefield, but then we dropped down off the Pennines into the Vale of York and the country became flatter and more like home. I wish that it had been like this (warm and sunny) yesterday and we could have taken a few photos of the peaks – but we have more hills to come in Northumberland. Went for a walk in the evening, stopping at a pub. A very nice day.
Wed July 25th 51 miles We left the hostel at about 9.00 a.m. and went into the centre of the city. Took a couple of photographs of the Shambles. We then struck off down the Scarborough road through Malton (elevenses) and Pickering for dinner. After dinner we left Pickering and began to climb up into the York moors. The country became bleaker and bleaker until it only consisted of a treeless expanse of short grass and heather, and a few patches of bracken in the hollows. Sheep were all over the road. Took several photos and saw the 'Devil's beef tub'.
Below: Empty roads, Vale of York
After a bit we saw the sea and Whitby on the coast, the abbey being plainly visible standing on the East Cliff. We reached the town at about 3.30 p.m. after dropping down Blue Bank (1 in 5). We looked around the town and the piers and the abbey ruins before reaching the hostel at about 5.00 p.m. Went for a walk along to Saltwick Bay and Saltwick Nab in the evening.Thurs July 26th Did not touch our bikes today! We left them at the hostel and spent the day in Whitby swimming, riding in motor boats and bumper cars etc. A very nice day but we spent rather a lot (17/-)!
Fri July 27th 62 miles We left the hostel at about 9.15 down through the town and up the East Cliff towards Sandsend. Climbed Lythe Bank (1 in 4½) out of Sandsend and struggled across the moors into a head wind to Guisborough where we had elevenses in a cottage. After this 'scoff' we carried on through Newby and Stainton to Yarm for dinner (2/6), and thence over the river Tees into County Durham. Through Urlay Nook (industrial works), Dinsdale, Darlington, High Coniscliffe (where we had some sweets) to Gainford and Winston to Barnard Castle. Reached the hostel at about 6.00 p.m.; it seems quite nice. The weather doesn't look very promising for tomorrow – but it may turn out alright. I hope so anyway because some other hostellers said it was "killing" up in the mountains! Went for a walk in the evening to the castle (3d entry) and had some chips and a beer. A very nice day.
Sat July 28th 53 miles Left the hostel at about 9.15 and bought some grub for our dinner in the town. We then pushed out through Lartington, Ronaldskirk and Mickleton to Middleton where we had some elevenses. We then continued up the Alston road, climbing steadily all the time through really beautiful scenery - which one could really appreciate because it was such lovely weather - through Newbiggin to Langdon Beck (1267 feet). Here we turned right up a tiny lane and had our dinner by Langdon beck. After this rest we continued up the hill to the top (at 2056 feet) and then dropped down the other side – down the best hill I have ever descended – into St Johns Chapel. [I have driven over this hill several times since then. Brian has ridden it at least twice, I believe. St Johns Chapel hill remains an experience!]. We turned left and then right, out of the Wear valley, to Allenheads, Dirt Pot, Allendale Town (tea) and then up again and down the other side, a seven mile drop into Hexham, and thence to Corbridge. Reached 'the place' at about 5.00 p.m. The place [although a CTC recommended establishment] was horrible, with a resemblance to an East End slum! Went to the pictures in the evening and bought some food for tomorrow because we are going out 'into the wilds'.
Near the highest point in our Pennine route, just before St Johns Chapel
Sun July 29th 49 miles We left 'the place' about 9.00 a.m. and climbed out of the town, up the A 68 and then left down the A 6076 to Chollerton to see Hadrian's wall, but at that place there was not much to see so we didn't take any photos. We then turned around and continued on for 26 miles to Rothbury without seeing a village or even a suggestion of one, except for a few isolated farm houses! Stopped to eat our grub somewhere. Crossed the Warbeck and the Coquet at Rothbury where we had tea (3/1 !!!). We stayed for about 1½ hours by the river talking to a girl [Brian tells me her name was Eunice!] and her young brother from Newcastle. At 5.00 p.m. we staggered off through Thropton, Snitter, Netherton to Alnham and the hostel. It seems very nice, but very deserted like the rest of the country!
Mon July 30th 50 miles Out of the hostel by 9.30 a.m. after fetching the milk (my job!), through Alnham, Great Ryle, Glanton and Hedgerley to Wooler where we had egg and chips for elevenses. We then turned right, down the B 6348 and climbed up through Chatton, where I bought some postcards, to Belford for dinner (4/6d) at the Black Swan Hotel on the A 1. Had a very interesting talk to some people from Dagenham and a bloke from Belford bank.
After dinner we turned left up the A 1 and then tried to reach Holy Island but we took the wrong turning which landed us up in the wrong place and eventually into fields and fields of bulls and thistles! Walked about 2½ miles through this lot, dragging our bikes over fences and ditches until we eventually came to Beal. We were too fed up to try to get out to the island now so we went out on to the A 1 and turned right into Berwick-on-Tweed. [It took a further 20 years for me to get to Lindisfarne!]. I bought a new gear cable in Berwick (mine had broken) and found the C.T.C. place; it is super with luscious food!
After an evening meal we took a walk down to the beach and watched the fishermen landing their catches. A very nice day, windy but hot at times.
Tues July 31st 66 miles Was out of the place by 9.30 a.m. and out up to the A 1 to Eyemouth, a fishing village (in Scotland), then on to Coldingham, Cockburnspath to Broxburn just outside Dunbar for elevenses. We then went into Dunbar and watched the fishermen, explored the old castle and the cliff. Brian took a photo. We had dinner here and then left the town by the A 1, and then right down the A 198 to Whitekirk and North Berwick (tea). Just before this town we visited Tantallon Castle, a very interesting place. We also visited Dirleton Castle just past North Berwick. Saw the Bass rock and North Berwick law (both volcanic necks). From Dirleton we continued along the coast (Firth of Forth) through Gullane, Aberlady, Prestonpans and then over the cobbles [and tram lines!] through Musselburgh and Portobello to Leith, the port of Edinburgh. Found the CTC place quite easily and then on the recommendation of the landlady, took a 6d tram ride around Edinburgh. Saw the castle and Princes Street, but it was not very clear because of the mist. A very interesting day (first time in Scotland!).
Wed Aug 1st Spent the day in Edinburgh without riding our bikes. Went to the pictures in the evening.
Above: Princes Street, Edinburgh. View from the top of Sir Walter Scott's monument
Thurs Aug 2nd 50 miles We left Edinburgh about 9.00 a.m. along the A 90 to Queensferry where we saw the Forth Bridge and watched the ferry boats (they even take coaches on them!). Continued on to Newton for elevenses (biscuits). About five miles from Bo'ness we visited Blackness castle and bought two postcards. After this we went through Bo'ness to Grangemouth where we had dinner. After dinner we continued along the A 905 past the new Kincardine bridge through South Alloa to Stirling. We were going to go into the castle but as we were wet we continued on to our digs at Bridge of Allan.
Fri Aug 3rd 55 miles Got away by about 9.45 a.m. The digs were really good – 8/6d bed and breakfast (and only 13/6d for a full day's board, and 2/6d for a four course lunch!). Rode through Dunblane, past the Ochil hills on our right, through Blackford (where we stopped for elevenses at a place recommended by a fellow staying at Mrs Lee's at Berwick). We had some more softies! We have pretty well lived on them and Scotch broth and pancakes since crossing the border! We had 11 of the latter each yesterday! After elevenses we continued on through Auchterarder, Aberuthven to Perth for dinner. A woman insisted on paying for our lunch! [If my memory serves me correctly, she asked whether we were good boys and went to Sunday School. Without even a blush I said "Yes" – and she bought our lunch. Nice people, the Scots!].
We left Perth along the side of the river Tay with the Sidlaw hills on our left through Glendoick, Inchture, Longforgan and thence to Dundee which we reached at about 4.00 p.m. Found the house where we are staying – Brian's relatives are very nice.
Sat Aug 4th 30 miles In the morning we walked around Dundee, and in the afternoon we rode over the Sidlaws to Glamis where we looked around the castle. Had our tea out and sent a post card to Alan Stratman (for doing a 1.3.05 – club record), and to Tony Standing and Tom Simpson (to tell him that we wish to ride in the '10' on the Wednesday we get back). A very nice day.
Sun Aug 5th We went out in Brian's uncle's car today to Couper Angus, Blairgowrie and Dunkeld on the edge of the Highlands. Saw some very fine scenery and visited Dunkeld cathedral. Came home past the famous Meikleour hedge (580 feet long and 80 feet high) and Meigle, Glamis and Forfar. A nice day out. The country is very beautiful around Dunkeld.
Mon and Tues Aug 6th and 7th In Dundee, no riding.
Wed Aug 8th 53 miles Today we started the return leg of our journey. Left Dundee at about 9.00 a.m., down through the town in pouring rain and over the Tay ferry to Newport and thence to Wormit and Kilmany – where my gear seized up! We went into a barn (somewhere in Fife!) and I changed the gear wheel over and got very mucky! Had some 'pooftas' [Scotch pancakes] which Brian's Auntie had given us for elevenses and then carried on through Luthrie to Auchtermuchty where we had dinner (4/-). After this the rain eased off and we rode on through Strathmiglo and Milnathort to Kinross where Brian cashed a traveller's cheque and wrote a card home. We then followed the A 90 along beside Loch Leven to Cowdenbeath and Crossgates to Inverkeithing and North Queensferry where we caught the ferry across the Firth of Forth. Had some grub on board (our own) and actually managed to get away without paying (at least nobody asked us for any money). When we got to South Queensferry we soon found our way to Kirkliston and the PUB we are staying at. It seems very nice [but was very noisy when the bar closed!].
Thurs Aug 9th 61 miles We left Kirkliston at about 9.15 a.m. down the B 7090 through Ratho and then on the B 7091 through Kirknewton, and then right on the A 70 past the Pentland hills on our left (they were topped with clouds) to Carnwath for elevenses. After this stop, and posting cards to my parents and to Tony Tucker, we continued down the B 7016 through Libberton to Biggar where we had our dinner. After dinner we left Biggar and started to climb up the A 701 which follows the Tweed valley. Saw some very beautiful scenery (Peebles-shire); the upper part of the Tweed valley is very nice. When we reached the 'Devil's Beef Tub' we stopped and took a photo and then had a four mile freewheel from 1,400 feet down to Moffat at 300 feet, and reached there about 4.30 p.m. Moffat is a very nice town. We found the CTC place we are staying – very nice indeed, considering it is only 7/- for bed and breakfast! Went for a walk in the evening to the putting green and boating pool. Back into England tomorrow!
Fri Aug 10th 72 miles We left Lingarth (and Moffat) at about 9.30 a.m., after having bought a few picture postcards of the district, down the A 701 through Beattock and then over the hills and woods to Dumfries for elevenses. We had a lovely descent into the burgh. Had a short look round the town and then left on the B 725 by the side of the River Nith which slowly widened into the beautiful golden sands of the Solway Firth with the mountains of the Lake District clearly visible on the horizon. Passed Caerlaverock castle and continued to Annan for dinner. We then joined the A 75 and cycled through Dornock to Gretna Green where we visited the old blacksmith's forge. We then continued on into Carlisle for tea and then on to Dalston after looking around Carlisle in its pageant week. We found our digs – it seems all right apart from the fact that we have a double bed – that means no sleep tonight! A very nice day, fine and hot. The lakes tomorrow: I hope its fine!
Sat Aug 11th 47 miles Left Dalston by 9.15 and sent a telegram home from the post office. Went through the lanes through Sebergham and thence to Skelton where we had elevenses. Six miles further on (Penrith) we had dinner because there seemed nowhere else until Windermere! After dinner we left Penrith up the Ullswater road and climbed steadily until the lake was in sight. We went right along the right hand side of the lake to Patterdale amongst beautiful scenery. We passed Brother's Water and then started to climb up the Kirkstone pass. It was a terrific climb but well worth it because of the views at the top of Windermere in front and Brother's Water behind us. We then padlocked our bikes and left the road to climb to the top of Red Screes and Kilnshaw Chimney – 2541 feet, the highest we have ever been. Saw a beautiful view of the lakes and Helvellyn. We then made our way back to the Kirkstone Inn for a drink and then down the hill to Ambleside and to Troutbeck youth hostel.
Sun Aug 12th 56 miles We left the hostel (a very good place) by 8.45 a.m. (as we had done a job the night before), down into Ambleside and then along beside Rydal Water to Grasmere (saw Wordsworth's cottage). We then climbed up to Thirlmere. After elevenses at Keswick we left on the Penrith road and then right at Troutbeck up to Patterdale where we had sandwiches and beer, and then to Aira Force café where the film "The Clouded Yellow" had been filmed. After dinner we walked up to see the waterfall and then back down yesterday's route through Patterdale and up the Kirkstone pass to the Inn. Here we sheltered from the rain before descending the 'dangerous to cyclists, steep, bendy hill' to Ambleside. From here we took the road to Coniston and thence to the hostel at about 5.30 p.m. A very nice day indeed!
Mon Aug 13th 61 miles Out of the hostel by 9.00 a.m. through Coniston village, Hawkshead, Sawry and then over the ferry (Windermere) after descending a good hill. At the other side we climbed up through Belfield, Crook and then to Kendal for elevenses. Posted a card home and then continued on down the A 6 through Milnthorpe and Beetham. We had our dinner (only 2/-) about three miles before Carnforth. We then carried on through Bolton-le-Sands to Lancaster where Brian managed to find a shop where he could buy an Airlite hub spindle to replace the one he broke near Wakefield. We left the A 6 at Galgate and struck off into the lanes through Dolphinholme, Abbeystead and then up into the Trough of Bowland – really beautiful country with super hills – to Dunsop Bridge and Newton to Slaidburn and thence to the hostel. Brian's tyre blew out just before Slaidburn so we mended it there. It is a very nice hostel.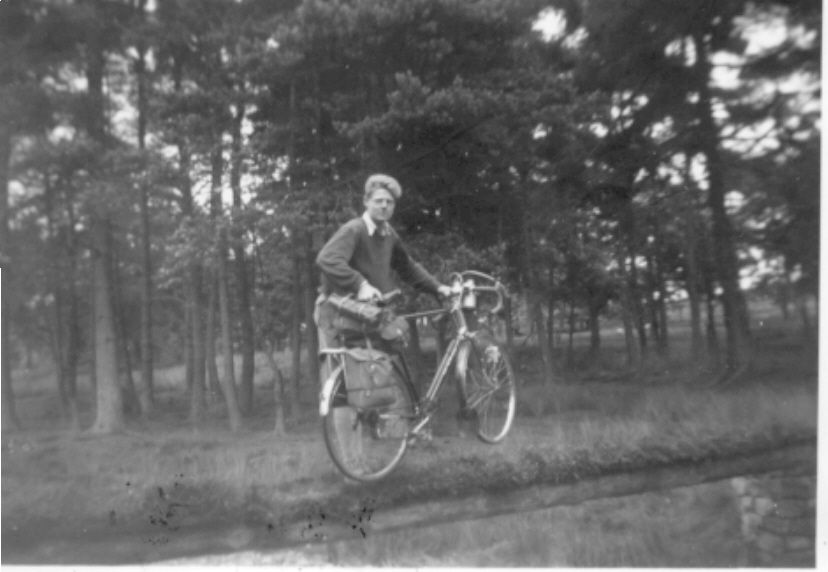 Brian in the Trough of Bowland
Tues Aug 14th 72 miles Left Slaidburn youth hostel by 9.15 down through Newton, Dunsop Bridge and Whitewell to Longridge where Brian managed to buy a new inner tube. We fitted it just past the village and then continued on through Preston (elevenses), Bamberbridge and Euxton to Standish for dinner (quite good for the price!). We then continued on through Wigan (not as bad as we thought it would be!) to Ashton in Makerfield, Newton in Makerfield and Winwick to Warrington and into Cheshire over the river Mersey. We then took the A 56 through Frodsham where we stopped for tea, and Helsby to Chester. Chester is a really beautiful town with half-timbered houses. The hostel seems all right, although the bunks are not exceptional. Today has been nice but not very interesting. In the evening we walked around the town and visited the cathedral and the wall.
Wed Aug 15th 64 miles We did a rotten 'duty' this morning – scrubbing the two stoves! After doing this we left Chester, after buying some postcards of the town, at about 9.30 down the A 540 through Lavister, Rossett, Marford and then up a hill to Wrexham where we had elevenses. We passed through a 'part of Flintshire' and Denbighshire. After elevenses we continued on through Johnstown where we bought some biscuits and then right along the base of the Welsh mountains near Rhosllanerchrugog (!) and through Ruabon, Cefn Mawr, Chirk, Gebowen and Whittingham to Queen's Head for dinner (a snack, really). We then continued straight down the road to Shrewsbury which we reached about 2.00 p.m. We had a look around the city, bought some sweets and a shandy, and then left along the Much Wenlock road. We rode through Sutton and Cound and then turned off into the lanes through Kenley, Hughley and Longville. Here we had a glass of orange juice and bought a magazine to read as it was too early to go to Wilderhope. After a rest we set off again, up the hill from Longville to Much Wenlock and then down a track to the hostel at Wilderhope Manor, a National Trust property. It seems very nice indeed.
Wilderhope Manor Youth Hostel, near Much Wenlock Photo: B.P. Huggins
Thurs Aug 16th 62 miles Hot and fine although rather windy today. We left the hostel at about 9.00 down the hill into the village and then left over the hills to the main road through Munslow to Ludlow. Saw Ludlow castle. We then continued down the A 49 through Brimfield (elevenses), Middleton-on-the Hill, Leominster, Hope under Dinmore and Moreton on Lugg to Hereford where we had our dinner – very good (3/-). Had a look around the town, saw the 'Old House', a half-timbered building in the middle of the main street, and bought a postcard of it.
After dinner we continued on through Much Birch and Bridstow to Ross-on-Wye where we had some tea. We then struck off down the B 4228 by the river Wye through Goodrich and thence to the hostel via the 'dry arch'. A very warm day. The hostel seems very nice apart from the fact that one has to wash in the river! We are going to try to get home tomorrow in one day (about 125 miles), partly because Marlborough hostel is reputed to be 'stinky' and partly because we want to clean our bikes up before Sunday and do a bit of shopping!
Fri Aug 17th 114 miles The last day of our trip! We got away from the hostel at about 9.00, went down the hill into the village and thence into Ross. From there we went straight down the A 40 right to Uxbridge (!) through Cheltenham (elevenses) and Gloucester, Northleach and Burford. We had dinner here but the service was terrible – a super lunch though. It had been pouring with rain since about 6.00 a.m. but now cleared up and we continued on through Witney, Eynsham and Oxford (where the sun came out) to Wheatley and Stokenchurch. We had tea in Stokenchurch and then rode on through High Wycombe to Beaconsfield and Uxbridge. Got home at about 8.20 p.m. after seeing the boys at the Manor. A very nice day.
Some tour statistics:
Whole tour: 27 days. Mileage: 1,392 miles Longest day: 114 miles Shortest day: 30 miles Average day: 51.6 miles Spent: £15/15/- average 11/6d a day Number of riding days: 23 Number of rest days: 4 (1 in Whitby, 1 in Edinburgh, 2 in Dundee) Average riding day: 60.5 miles